Reynborg is a brand which is inspired by the people who wear it. Built to last and to be taken with you on all of your life's adventures. It is our mission to spread the message of little luxuries in everyday life. This is why it was very exciting for us to find ourselves mentioned in leading men's magazine, British GQ.
Reynborg – As Seen in British GQ
A household brand, this historic magazine was definitely on our vision board since the founding of Reynborg in 2017, and in 2020, it actually happened! In not one, but TWO issues of this top men's magazine.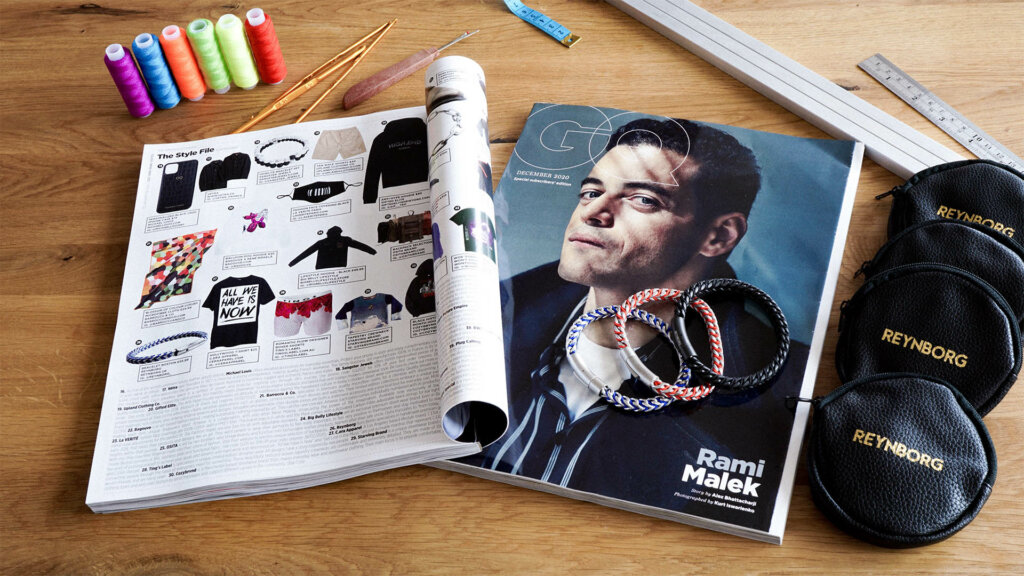 You can now find our very own Bracelet Boston in and among some of the biggest brands in the world in the December 2020 issue of British GQ and the January/February 2021 issue.
More on Bracelet Boston
Bracelet Boston boasts both strength and elegance, crafted with a stainless steel chain and a durable nylon woven in between. For an added opportunity of customization, you can choose the color your want interlaced in the chain.

This bestseller sits elegantly on the arm well secured by the mechanical clasps. Each comes with the perfect Reynborg pouch bag to keep your favorite gem safe until the next time you crave an extra piece of luxury in your day.
Switch it up with Bracelet Montreal
If you're looking for an even sleeker look, our Montreal bracelet has also proven very popular since its release.
Bracelet Berlin for the Robust Look
Likewise if adventure is more your style, the Berlin bracelet is just what you're after.
While you browse our brilliant gems for men, we are going to go back to our vision board and see what else we can plan for an exciting 2021!

Thank you to all of our collector's who make this brand what it is.
– Reynborg
P.s. Just going to leave another picture of us in British GQ here…